Free online resources:
Minnisspjöld (Flash cards)   – a project by Daniel Zúñiga-Rivera and Svava K. Skúladóttir
Beygingarlýsing íslensks nútímamáls  – the Database of Modern Icelandic Inflection
Íslenzka.is   – grammar tools and exercises
Viltu læra íslensku – 21 TV episodes for language learners
Íslenska fyrir alla 1-4 – PDF course books
Apps:
Flexura (Android)    –   by Hrafnhildur Skúladóttir and Svava K. Skúladóttir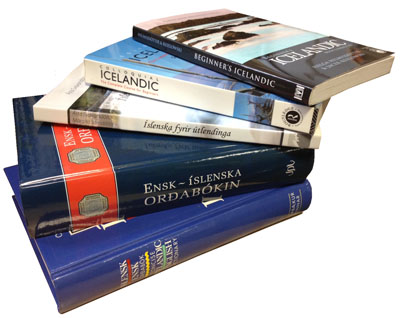 Self-study books:
Colloquial Icelandic: The complete course for beginners
by Daisy L. Neijmann
ISBN-10: 0415207061
ISBN-13: 978-0415207065
Beginner's Icelandic (Hippocrene beginners series)
by Helga Hilmisdóttir and Jacek Kozlowski
ISBN-10: 0781811910
ISBN-13: 978-0781811910
Learning Icelandic (text book & grammar exercises)
by Auður Einarsdóttir, Guðrún Theodórsdóttir, María Garðarsdóttir and Sigríður Þorvaldsdóttir
ISBN-10: 0452900565
ISBN-13: 5690452900567
Dictionaries:
Ordabok.is    – A good, online dictionary for a very modest subscription fee
Icelandic online dictionary and readings – Free access, developed by the University of Wisconsin
Icelandic-English/English Icelandic Practical Dictionary – Paperback or Kindle
by Helga Hilmisdóttir, 2017. Published by Hippocrene Books.
ISBN-10: 0781813514
ISBN-13: 978-0781813518
Bookshops:
www.boksala.is
www.eymundsson.is
www.forlagid.is
www.idnu.is
Email the shops to find out about shipping costs.