My Icelandic Background
I was born and raised in the small fishing village of Sandgerði in South West Iceland. This is where I received my primary and secondary education and where I had my first experience of the world of work. I went to college in the neighbouring town of Keflavík before moving to Reykjavík, the capital, for a taste of city life.
As most Icelanders, I've travelled all around the island. I have family in both the East and North of Iceland but I was also raised by parents who loved the countryside and so every summer holiday was spent chasing the good weather (difficult task!) and exploring our country. I have now lived in London for a number of years but I go back home several times a year to catch up with friends and family.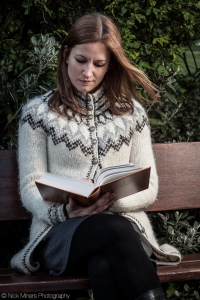 Professional Experience
I have been teaching Icelandic Language courses on the Evening Courses programme at University College London's Centre for Languages and International Education since 2007. I write the syllabi for my courses, choose and/or design the learning materials and assess my learners' progress. I have also been involved in projects there concerning minority languages and virtual language learning which gave me the chance to create and develop interactive language learning exercises  for the Internet. This sparked a continued interest in online learning.
I also teach Icelandic language at the City Literary Institute, an adult education college, which offers a vast range of part-time courses. In addition to my Icelandic language courses here, I have also conducted courses in Scandinavian Language and Culture.
I taught English as a Foreign Language for a few years, across a range of levels (from beginners to Upper-Intermediate level).  As an EFL tutor at an FE college, I got a lot of experience in helping students identify their goals and areas for improvement as I was responsible for keeping and monitoring individual learning plans for every student. A big part of my role here was also to prepare my students for the Cambridge ESOL exams.
I  have experience as a visiting lecturer on the English Language and Linguistics programme at Roehampton University, delivering a module on linguistic change to first year undergraduate students. This was a new challenge for me and an insight into a different context of teaching, which I learnt a lot from.
I have experience of private tuition in all of the above subjects (Icelandic, English, linguistics). My role as a private tutor is, by nature, very varied as my teaching has to adapt to each clients individual needs. With regards to Icelandic, for instance, I have taught the language to private clients for business and travelling purposes; in preparation for emigration to Iceland; to help those with family ties to Iceland get in touch with their Icelandic roots: for academic purposes and, last but not least, simply for fun!
Academic and Professional Qualifications
Qualified Teacher Learning & Skills (QTLS) status (granted by the Institute for Learning Council, UK)
Professional Graduate Certificate in Education (Diploma in Teaching in the Lifelong Learning Sector) with an additional diploma in ESOL.  (University of Westminster)
BA(hons) TESOL (Teaching English to Speakers of other Languages)  Grade 1:1   (Roehampton University)
CELTA (Cambridge Certificate in English Language Teaching to Adults)
Member of the Institute for Learning
Why I teach?
Well, I love the subject matter! I am forever fascinated by languages and I am very curious about the way people learn so teaching Icelandic is a great way to combine my two interests. I love witnessing the progress learners make and it really fascinates me to see my mother tongue from my learners' point of view – they point out to me what to them is strange, funny or beautiful but which to me, as a native speaker, is just normal. This makes my teaching a rich learning experience for me as well – especially as I experiment and discover new teaching and learning tools to make each person's learning experience as successful as possible!